It's Monday! What are you Reading? is a meme hosted by Sheila at Book Journey. It is a great way to recap what you read and/or reviewed the previous week and to plan out your reading and reviews for the upcoming week. It's also a great chance to see what others are reading right now…who knows, you might discover that next "must read" book!
Reviews Posted Last Week:
The Outlaw Demon Wails by Kim Harrison
What I Read Last Week:
Up first I listened to The Outlaw Demon Wails. I really like this series but this book in particular was a bit painful to get through. For some reason a new narrator was used, and I can't figure out why they would do something as foolish as that, and it just didn't work at all. You can read my full review of this book by clicking the link above.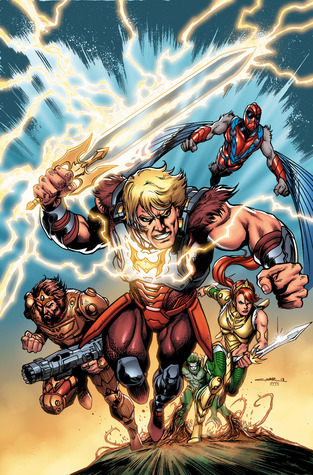 Next I ended up reading the first 10 issues of the new He-Man And The Masters of The Universe comic books. I've been sitting on these as a while and figured it was time to read them. They are quite a bit different than the cartoon series that I grew up with, but once I got past those differences I found them to be quite enjoyable and look forward to reading more of the series in the future.
What I Plan To Read This Week:
This week I plan to read Blightborn. This is the second book in the Heartland trilogy and I really enjoyed the first book, Under The Empyrean Sky. I definitely am looking forward to seeing how this story progresses from where the first book left off. I only hope that my Kindle co-operates, since it has been plagued with issues lately which keep me from reading on it much.
What have you read recently? Were they as good as you had hoped or just alright? What books do you plan to read this week?