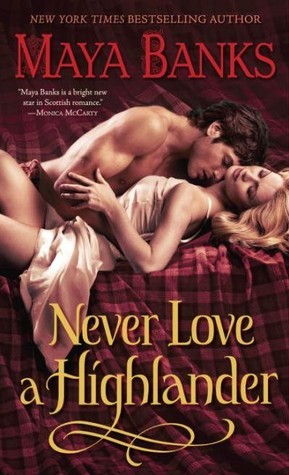 My rating: 4.5 out of 5 stars
The final book in the McCabe trilogy picks up where the previous book leaves off. Things are a bit in a state of chaos thanks to the events the occurred in Seduction of A Highland Lass and now things must be set right. There is a lot of unresolved issues for the characters to deal with and of course all the while the threat of Duncan Cameron looms in the background. Because of this I was very excited to start this final book in the trilogy, plus from the sneak peak of Rionna that I got in the previous novel I knew I would enjoy this one since she is a main character this time around.
Like the previous novels, this one had a very good flow to it and the narrator, Kirsten Potter, brought the story and characters to life wonderfully. I truly enjoyed Rionna's character. She's strong, sassy and far from the typical lady that you normally encounter in these books. Her desire to be a warrior and ignore what others thought of her actions and the way she dressed made her a girl after my own heart, as I would want to be the sword toting type if I lived in that period as well. She's definitely an independent spirit and the fact that she can weild a sword equal to, if not better, than a man gets her major points in my book.
I honestly wasn't sure what to make of Caelin's character. He had such a small role in the previous novels and even with that previous exposure to him I hadn't been able to read his character very well since he always appeared to be in the shadows of his brothers. It took a while for him to truly shine in this book. The one thing I liked to see was that his character was flawed. He made mistakes, quite a few actually, in the beginning and it took him time to overcome these errors and make things right. It really made his character more appealing in the long run. He certainly proved himself to be a capable character as events played out and forced him to break through the stubborn wall he had became.
There was a lots more action in this book, which was thanks to a combination of Rionna's nature and also the reappearance of Duncan Cameron. I was thrilled to finally see Duncan again and was not disappointed at all in the events that his presence set off. This additional action was definitely something that made this book more appealing to me on top of the great characters as well.
Some of the banter between Rionna and Caelin was really entertaining and had me laughing at times. They certainly had a number of moments where they were butting their heads but you could see that something was breaking as well, the tension between them seemed to lessen after each argument. There were also a good number of twists in this book that really helped to make it a very entertaining read.
The ending was very satisfying and I feel it did a very good job of wrapping things up. Often times I find the final book in a trilogy or series to be lacking and leaves more questions than answer, but that was not the case for Never Love A Highlander. While I would love to see more of these characters, I am happy with how the trilogy turned out. In fact I would go as far as to say this final book was by far my favorite within the trilogy. It had the best characters, the most action and just an overall better feel to it.
I really loved this book, it cleanly tied everything up. I would definitely recommend this book, and trilogy, to those who enjoy highland romances (or any romance for that matter) with solid characters, a smooth flowing storyline and great bouts of actions. I plan on reading other books by this author in the future and will especially be looking for her audiobooks that are also narrated Kirsten Potter.