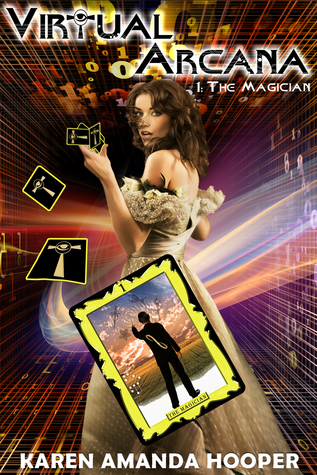 My rating: 5 out of 5 stars
The author provided me with a copy of this book in exchange for an honest review.
The Magician is the second book in the Virtual Arcana series, even though it's labeled as book one. Please make sure you read Book 0: The Fool before reading this book.
After having read The Fool I was craving more of this story. I wanted to know what would happen next with Kelsey, Keekee and Xander, I wanted to see more of the world they lived in and what drives each of them towards what they want in life. The Magician helped me get what I wanted. The second book in the series, The Magician really starts to ramp up the story and it shows the reader what may possibly come next without revealing too much at the same time.
I found myself sucked into The Magician right from page one. The writing is well done and the flow of this story stays steady throughout, willing the reader to keep going so that they can reach the end. Though I hadn't been overly drawn in by the characters in the first book, they have grown on me a lot now. Through the events in this book we get to see more of who they are and what makes they do and say what they do, what drives them on and also what may hold them back. Kelsey has become more of an appealing character, but I can see that her journey has only just begun and certainly her character will change as events progress, and I am looking forward to seeing what those changes will be. Xander is full of surprises once again, he's still a bit of a mystery but that's half the appeal of this story. I am definitely looking forward to seeing their story continue as this series goes on.
What I really loved about this book is it contains more world building. There is more technology shown, some of it is explained, while others remain a bit more of a mystery, which of course is more enticement to keep reading this series. But it's not just the world they live in that we get to see this time, but also the worlds that can be accessed through the technology that exists. The mix of new technology, like the government bands and hovercraft cars, mixed with old technology, or lack there of, in the form of paper books, really makes the story appealing. It shows that it's in the future, and yet not so far that the past has been completely forgotten, not yet at least. All of this combines into a fantastic story and really the only downside is that it ended too soon. There is certainly bound to be a lot more technology shown as the series progresses and that is something to look forward to.
Though I am still not a big fan of this serial style way of writing, I enjoyed this book a lot. Everything is starting to come together and events are shifting and moving forward at a quick pace that begs the reader to keep reading. The cliffhanger ending, brilliant. If this was a full length book, I would have kept reading because now I desperately want to know what happens next. I would high recommend this series of fans of YA and SciFi books and I cannot wait til the next book in this series comes out.