It's Monday! What are you Reading? is a meme hosted by Sheila at Book Journey. It is a great way to recap what you read and/or reviewed the previous week and to plan out your reading and reviews for the upcoming week. It's also a great chance to see what others are reading right now…who knows, you might discover that next "must read" book!
Reviews Posted Last Week:
No reviews posted.
What I Read Last Week:
Since I was fighting a nasty cold last week I didn't get as much reading time as I had hoped I would. However, I did manage to finish up reading Killbox. I seriously loved this book and looking forward to finishing off the series. I'll be posting a full review of this book in a few weeks.
What I Plan To Read This Week: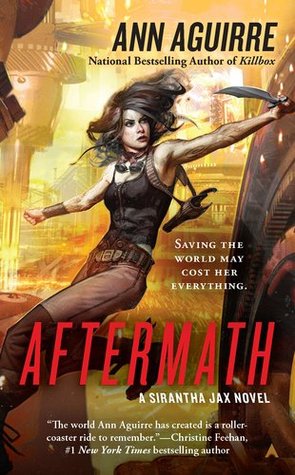 This week my plan is to read Aftermath. It's the fifth book in the Sirantha Jax series and I am eager to start reading it. Although I will admit, I have this bad feeling that the book will be on the slow side, much like Wanderlust was, but only time will tell.
After this I hope to read Endgame, but that will depend on how fast the library gets the book in for me. If I don't get the book this week I will likely grab something off of my shelf that has been sitting there for some time.
What have you read recently? Were they as good as you had hoped or just alright? What books do you plan to read this week?