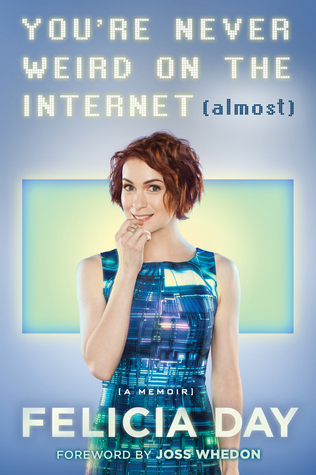 My rating: 5 out of 5 star
Memoirs and autobiographies are not something I normally read. I also rarely review them since I find it hard to really judge them since they are the story of someones life. However, with this book I am making an exception to that and reviewing it since I enjoyed it so damn much.
I have been a fan of Felicia Day's since her web series, The Guild, first came out. I can't say that I had heard of her before then, but after it came out I knew whatever she was in I would watch, and I have stuck with that (for the most part). So when she had announced that she was writing a memoir, I just knew I had to get my hands on that books. A pre-order and many months of waiting happened before I finally had my hands on this beauty.
I devoured this book. I really enjoyed reading about her past, her childhood of being home schooled and involved in some many different things, like dance, music and so much more. How she got into college early, why she chose the path she did with school, how she got into acting and what made her start up Geek & Sundry.
Most of all what I liked about this book, was the connect I felt with Felicia. I know that sounds weird, but it's true. From her dealing with anxiety to becoming addicted to World of Warcraft, I felt like, in a way, I reading about some of my life, as I had dealt with those exact same things. It really made her feel more like a normal human being and not this famous person that so many know and love.
Throughout this book I laughed, I shook my head from some of the crazy shenanigans that went on and experienced several other emotions as well. It's not every day you get an in depth personal look into someones life, especially someone who is an internet (or otherwise) celebrity.
There was one particular part that had me laugh quite a bit.
"…and we were pretty convinced he was going to grow up to be a serial killer. I recently looked him up on Facebook. He became a dentist, so same difference."
This was extra entertaining to me as I have quite a fear of dentists (and doctors for that matter), so I felt that this was an appropriate connection between a serial killer and a dentist.
I wish I could better express what I loved about this book, but it's one of those things where you just have to read it for yourself to find out.
If you have enjoyed any of Felicia's work, or are even a bit curious about her, I highly recommend reading this book. Even if you have no idea who she is, you should still check out this book, as you will likely enjoy it, and who knows maybe you will feel that connection to her as I did while reading this book. So go forth, read this book and embrace your weirdness!