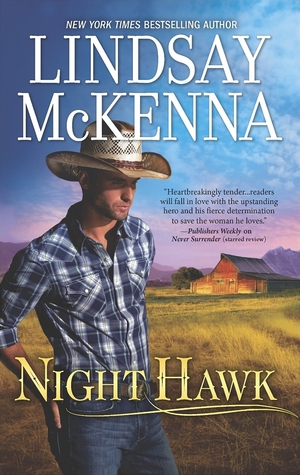 My rating: 4 out of 5 stars
The publisher provided me with a copy of this book to review via Net Galley.
I had been looking forward to the next book in the Jackson Hole series for about a year now. However, I did have some reservations going into this one. The previous book, Wolf Haven, I did not enjoy – in fact I couldn't even finish it, so I was a bit worried that this one might be the same. I was happy to find out that this was not the case, and that Night Hawk ended up being a very enjoyable read.
Let me first start by saying, that I really enjoyed seeing some of the characters from previous novels. I know this novel isn't really about them per say, but I just couldn't help but be excited to see that they played a good role in this story. Getting to see Cat and Talon again, who were the main characters in High Country Rebel, really brought everything together for me. I would have enjoyed the book even without their presence, but getting to read more about them was great. And of course we can't forget about Sandy and Miss Gus, especially Miss Gus. These two older women really bring an extra element to the stories that they are in.
Now to the main focus of this book, Kai and Gil. I liked both of these characters quite a bit. Kai is not your typical woman, which was great. She is a mechanic, ex-military and a damn hard worker. Really the only thing I didn't like about her was her penchant to cry over a lot of things. I get it, some of the things were pretty emotional, but it does creep me out a bit when people cry regularly, so that made me cringe just a bit. Otherwise, she was a fantastic lead character. Then there is Gil. I wasn't immediately drawn to his character, but that can be a good thing. I like when character have to work to make me like them. Not saying that I hated him, but he had to grow on me.
The tension between these two was a major player in this story. Though they tried to put that aside, for the the sake of their jobs and the ranch, you could almost feel it when reading. Having characters kind of hate each other is something that I enjoy. It makes me like things all the more, because there isn't that instant love that happens all too often in romance. Oh sure, there was sexual tension along with the general "I hate you from before and can't forgive you" tension, but it merged well with everything.
I have to say overall, this was a very enjoyable novel to read. I blew through it in no time and really liked all the aspects of it. The underlying tension, slow to grow romance, seeing old characters and an entertaining story line brought it all together. If you have enjoyed any of the previous novels in this series then you will surely want to check out Night Hawk. Even if you haven't read any of the series yet, this can be a good spot to jump into it, as it is standalone enough to not have you missing out on things. Though I would recommend reading the previous books as well.