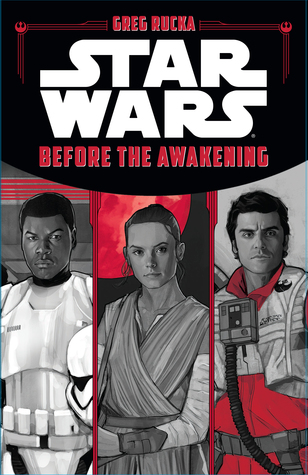 My rating: 3 out of 5 stars
This review contains some spoilers.
After seeing The Force Awakens back in December, I wanted to know more about the three new main characters: Poe, Finn and Rey. Especially Rey, as she is my favorite. I picked up this book after watching the movie for the second time, and fast forward to a month later, I finally got around to reading it. The book is divided into three different stories, each focusing on one character. The stories for each are not long, but certainly help to give a small glimpse into their pasts and what exactly happened to them to make them the characters that they are in the movie.
While the stories adding some things, overall they kind of add nothing. By watching the movie we can generally piece together enough to guess or know what happened to each to put them on the path that they are on during The Force Awakens. Admittedly, I was hoping to see a bit more, but I understand that they can't reveal everything right away and we will surely get to learn more about these characters backgrounds as the series progresses. Regardless, this was a decent enough read. Now let's break down the stories just a bit.
Finn
Finn's story seems to contradict a lot of what we know about Stormtroopers. The fact that he has an extremely high blaster accuracy is just mind boggling. We all know how bad Stormtroopers aims is. Look at any of the films and you will know it to be true. Yet, here is a guy who has great accuracy – at least when it comes to training simulations. It just doesn't make sense.
Ignoring that part, we do get to see some of his training with his fellow Stormtroopers. There's not really much to say about this. They train, they run simulations that help to see where their strong points are and then they get to go on a real mission. It's not until the mission that we really get to see Finn break away from the brain washing of the First Order. In doing so it does help to explain his actions in The Force Awakens.
Rey
Rey's story is by far my favorite. It's very emotional, especially at the end. We get to see just what a struggle it is to try to survive on Jakku, more so than what we see in the movie. This story also helps to show just how mechanically inclined Rey is. Sure it's obvious from the movie that she can probably make/fix anything, but this story really brings it into focus.
Rey is one resourceful young woman and isn't afraid to push herself to achieve something great. We see this in her story, as she works to repair a ship to help earn herself a large number of rations from Unkar. With the help of some unlikely allies, she pulls it off. I won't spoil the very end, but let's just say it made me quite sad and wanted to reach through the pages and give Rey a big old huge.
Poe
Hot shot pilot that he is, Poe's story is appropriately filled with a smattering of space battles that only a top x-wing pilot could put off.
Really the biggest thing of significance for Poe's story is how he transitioned from the Republic to the Resistance by one act of insubordination. Though had he not done this one thing, who knows where he would be now. It does also give us a look into his family life before he became a pilot, which was interesting.