Reviews Posted Last Week:
Tides of Darkness by Aaron Rosenberg
What I did Last Week
Read
The only thing I managed to read last week was Wonder Woman Earth One: Volume One. I was fairly disappointed with this book. I will be posting a full review of this book next week.
Watched
My son and I ended up watching quite a few episodes of River Monsters. This was fun because we not only really enjoy this show, but it also cleared out a bunch of space on the PVR. I think in total we watched about eight episodes. For family movie night we ended up watching Homeward Bound II: Lost In San Fransisco.
I ended up watch The Lady on Netflix. This is not a type of movie I would typically watch, but I decided to give it a chance and I'm glad I did. I wouldn't mind watching more like this in the future.
Life
This was a bit of a busy week. First off, I was participating in Bloggiesta. I did a lot of work on my blog and I will be doing more in the coming days/weeks. If you want to see all that I accomplished, you can read about it here.
On Thursday a friend of my husbands dropped off him puppy for us to watch. I had forgotten how much work a young puppy is and I'm looking forward to when they pick her up later today.
What I Plan To Do This Week
Reading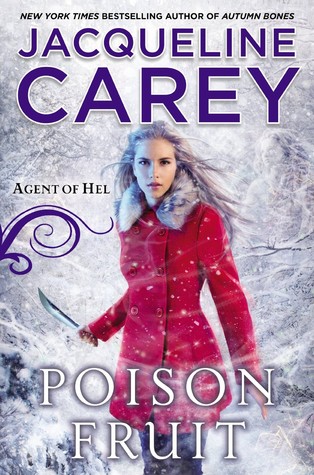 If I can find some time to read, I really need to try to finish Poison Fruit. The longer I go without reading/finishing this book, the less likely I am to actually finish it. With luck I can get this one done and finally scratch it off my list.
Watching
I plan to watch and remove a few more hours worth of content from our PVR. There are a couple episodes of River Monsters left to watch and then I might watch the Klondike miniseries, which I recorded last year and have yet to watch.
Life
I really need to get some pre-Camp NaNoWriMo work done. Since this starts later this week, I need to make sure I have all my notes ready and that they are easily accessible. Outside of this, I'm not really sure what is in store for me this week.