Reviews Posted Last Week:
The Thing Around Your Neck by Chimamanda Ngozi Adichie
What I did Last Week
Read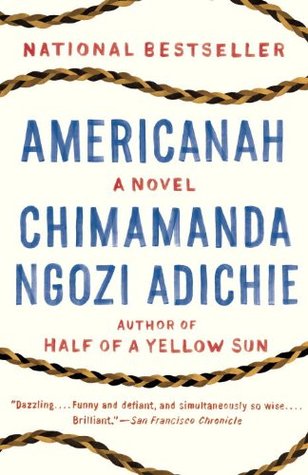 I first got around to finishing Americanah. This was a really good book, but one of those slow reads where you couldn't rush it and had to just slowly absorb each word on the page. I will be posting a full review of this book soon.
Next up, I read The Dream Thieves. I really enjoyed this book and managed to read it in just a few hours. This book is quite a bit different from The Raven Boys, but in a good way. I will be posting a full review of this book later this week.
Watched
Instead of doing Bad Movie Monday, my husband and I decided to watch the first two episodes of The X-Files reboot. They were a bit slow, but okay enough to make me want to want the rest of them at some point. We also ended up watching Zootopia at the small theatre in town. This movie was actually a lot better than what I thought it would be, so I'm glad we decided to give it a chance. Then for Family Movie Night, we ended up watching Hercules & Xena: The Battle For Mount Olympus. This is a pretty bad animated movie, but I also kind of love it at the same time despite and because of how bad it is. On top of this, I watched my regular weekly shows on TV, with the exception of River Monsters, which I have waiting on the PVR for when I have time.
Last night we also slipped in another movie. We ended up watching 10.0 Earthquake, which was our intended Bad Movie Monday pick for the week coming up, but since my husband would be gone Monday we decided to watch it a day early. I have to say, this movie was a lot better than we thought it would be, in fact we gave it a solid three stars.
Life
It's finally looking like spring again, so we spend a lot of time outside this week walking around time, playing with the dog and cleaning up the yard a bit. Sadly it's too early to plant anything in the garden, but I have started to plan out what will be planted where for when the time comes.
What I Plan To Do This Week
Reading
First up, I'll be finishing Blue Lily, Lily Blue. I'm really enjoying this one, but just didn't have enough time to finish it last week – since sleep was calling me and I can't/shouldn't read when I'm tired or I will forget everything I read.
After that, I'm honestly not sure what I will be reading. I need to go through my list of books and see which one strikes my fancy.
Watching
No idea what I will be watching this week. More than likely it will consist of my regular TV shows, and a movie or two, but the actual details of what movies they will be, well I'm not privy to that yet.
Life
This is another week where everything is up in the air. A lot will depend on the weather, if it's nice I'll be outside enjoying it, if it's crappy then I will be inside hiding from it.