Reviews Posted Last Week:
The Dream Thieves by Maggie Stiefvater
What I did Last Week
Read
I got a decent amount of reading done this week. First off, I read Hard Rain. This was a fairly quick read in a series I have slightly mixed feelings on. Eventually I will reread it to see if I can figure out if I missed something which prevented me from liking it more.
Next I read A Little Yuletide Murder. As with all other Murder, She Wrote novels, this was a quick and enjoyable read. I look forward to reading more of the books in this series as the year progresses.
Then I read Appleseed Volume One. I don't read as much manga as I want to, so it was nice to finally get around to reading this one. It wasn't quite what I was expecting but I still enjoyed it.
Finally I read Appleseed Volume Two. Again this one was enjoyable and I look forward to finishing off this relatively short manga series. I will likely do a review of the series as a whole for Sci-Fi month in November.
Watched
I didn't get a chance to watch all the regular shows last week, but luckily they are waiting on the PVR for when I do have time.
For family movie night we watched the original Planet of The Apes movie. We all enjoyed this one, though my husband and I had seen it before. Maybe this will prompt me to finally watch the rest of the movies, as I have never gone past the first movie.
Life
Well, my truck died, ignition switch went on it, so I spent most of the weeks walking everywhere and borrowing a friends vehicle when I needed it. Luckily the truck is back and running, so things are back to normal, though it was kind of nice to walk instead of drive. I did participate in the 24 Hour Read-A-Thon on Saturday. In fact, we all took part it in, which was awesome, wince my husband and son aren't generally much for reading.
What I Plan To Do This Week
Reading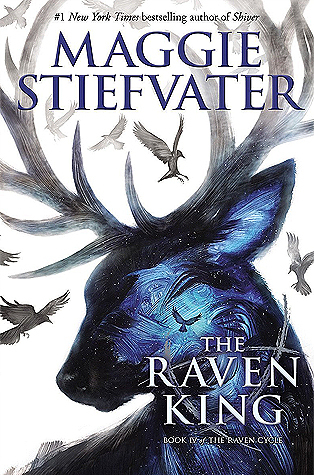 I have a couple books partially read, so this week I will be focusing on finishing those up. First off is The Raven King. I am about a third of the way done this one and I am enjoying it quite a bit. Should be interesting to see where this one ends at.
Next will be Perdition. I'm currently about a quarter of the way through this book and it's done a darn good job of sucking me into the story. I look forward to finishing this one.
Watching
I'll be playing catch up on the PVR stuff, as well as watching all the new episodes from this week. I'll also be watching the season premiere of Game of Thrones very soon.
Life
Now that spring has finally arrived, I've got some work outside to do to get the garden all set up. Though it's still too early to plant anything, I'd like to get everything ready for when it is time. The shed and trucks are also due for their spring cleaning, so that will keep me busy.