Reviews Posted Last Week:
None
What I did Last Week
Read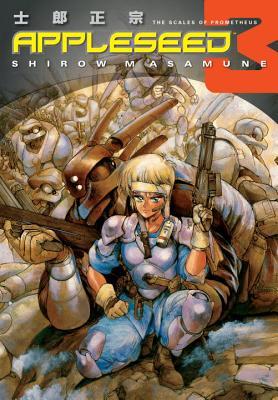 My plan was to finish up some partially read books. However, that didn't quite happen, however I did manage to get two books read. I read Appleseed: The Scales of Prometheus and Appleseed: The Promethean Balance.. I had previously read the first two volumes and enjoyed them a lot. So it was nice to get around to reading the other two. I may do a review of these in the future.
Watched
The satellite is working again, so I was playing catch up on the stuff on our PVR. I watched quite a few episodes of Life Below Zero, a couple episodes of Deadliest Catch and one old episode of River monsters.
Life
I'm trying to get back into baking regularly again. Stopped doing it for a while, partially because of the house work and partially because I was lazy. So I did get quite a bit done last week, including making up a bunch of perogies for the freezer.
The garden is growing well and so are the weeds. So I have been devoting a lot of time to keeping the area weed free and making sure the plants are happy. Also, it's nice out, so we're spending more time outside enjoying it since we know our summers are far too short up here.
What I Plan To Do This Week
Reading
Not entirely sure what I will be reading this week. Shall see what book tickles my fancy.
Watching
We're hoping to watch The BFG when it comes out. It looks quite good and I remember loving the book as a kid, so hopefully the movie will be good as well.
Life
A visit to the Science Center is in order now that the boy is out of school. He absolutely loves it there and only ever complains when we tell him that we have to leave because it's closing for the night. Looking forward to seeing the latest special exhibit, which is all about the weather.