Reviews Posted Last Week:
Ahsoka by E.K. Johnston
Lost Stars by Claudia Gray
Havoc by Ann Aguirre
What I did Last Week
Read
Nothing. Unless recipes count, if they do, I did a lot of reading.
Watched
Didn't really have much time to watch anything. Did manage to get Family Movie Night in, which we ended up watching Princess Mononoke. We all enjoyed it. We also ended up watching several episodes of Star Wars: Rebels, since we had fallen behind on that show. They were really good, and we are looking forward to the rest of the season.
Life
I had an incredibly busy week. I basically spent every day in the kitchen from the time I woke up til it was time to sleep baking my butt off getting ready for the craft fair. The craft fair went really well, while we had crappy weather, there was a good turn out. In fact, I nearly sold out of most things the first night and spent many hours afterwards baking even more so I'd have enough to sell the second day. While it was fun and I made lots of money,I'm glad there isn't another craft fair for a year.
I did manage to get a small amount of writing done. And by small, I mean less than 200 words for the week. It kind of sucked going from such a high amount of writing the previous week to this, but I just didn't have the time or the brain power to do much.
What I Plan To Do This Week
Reading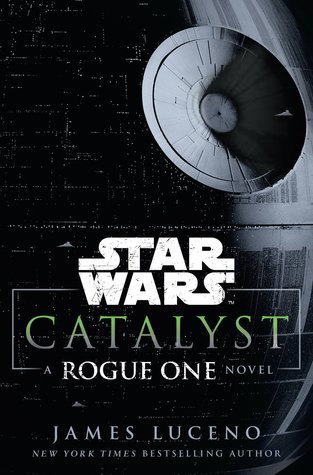 I am hoping to read Catalyst this week. This is the prequel novel for Rogue One and I can't wait to read it. I also can't wait to see the movie. Less than a month to go!
Watching
I have some episodes of Heartland to catch up on, as well as some things on the PVR I wouldn't mind watching. Outside of that, no solid plan for TV or movies.
Life
Not sure what I plan to do this week…outside of avoiding the kitchen as much as possible.