Reviews Posted Last Week:
Vol'jin: Shadows of The Horde by Michael A. Stackpole
What I did Last Week
Read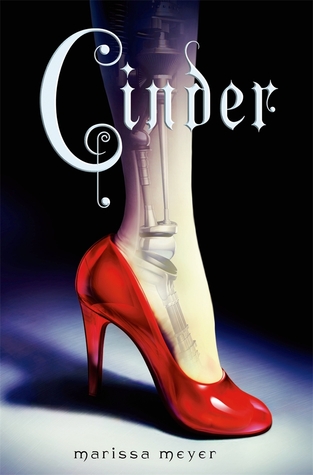 Well, I didn't do much reading last week. However, I did manage to finish Cinder. This book was fantastic and I read nearly the whole thing in one sitting. Really the only bad this is that I don't have the next book in the series, so I have to wait to continue on with it. I will be posting a full review of this book likely some time in May.
Watched
I watched so many things last week. I catch up on most, if not all, of the channels I follow on YouTube – it's mostly booktubers, with some gardening channels mixed in. I spend many hours in front of the TV watching River Monsters, My 600lbs Life, Heartland, Alaska: The Last Frontier and a few other random shows. I finished season three of Gilmore Girls on Netflix. For Family Movie Night, we ended up watching Airplane. Hubby loves that movie, but the boy and I didn't really care for it.
Life
My plan to have a do nothing week was quite successful. I did have a couple of baking orders pop up, but they were simple things that didn't take much time. Outside of a little bit of cleaning, just a quick vacuuming, dusting and the dishes, I left the house alone this week. It was really nice to have no real plans. Most of my time was spend watching something either on the TV or at the computer. I did get some writing done last week as well, which is great because I have been totally slacking on writing this year. We also spent quite a bit of time shoveling, since the weather warmed up, which sadly means snow.
What I Plan To Do This Week
Reading
I need to finish reading National Velvet. This book is really slow at the moment, so it's hard to sit and read it. But I am hopeful it will pick up soon. If it doesn't, it might end up in the dreaded (but sometimes necessary) DNF pile.
I think the next book I will read is The Titan's curse. I'm really enjoying the Percy Jackson series and cannot wait to finish it. The last book was great and left me wanting more. My only fear is that the series will end too quickly, but at least there is the Heroes of Olympus series to follow it up with.
Watching
I need to keep working on watching out pile of 'Get rid of' DVDs. I'm not sure which ones I will watch this week, but I'm hoping to get through a few of them. I will likely also start watching season four of Gilmore Girls, though I will admit, I'm slightly losing interest in the show. Perhaps I just need a bit of a break before I continue with it.
Life
As nice as it was to have last week off, it's time to get back to business. I will be continuing with the great house purge this week. I plan to tackle the boys bedroom, the upstairs bathroom and, if I have time, the kitchen. I will also be working more on writing, since I have the desire to work on stories now that I have put a few words down last week. I am also hoping to get a writing desk set up this week, as trying to write in our computer room, while hubby plays video games just isn't working. I need to make a quiet area in the house, specifically for writing.