Reviews Posted Last Week:
In Shade And Shadow by Barb & J.C. Hendee
What I did Last Week
Read
I read a lot last week. Mostly it was thanks to the 24 hour read-a-thon on Saturday, otherwise, I might not have finished a single book. First up, I finally finished The Battle of The Labyrinth. This one wasn't as strong as the previous books in the series. I'll be posting a full review in the coming weeks.
Then I read The Thousand Dollar Tan Line. Having watched the entire Veronica Mars series and movie last year, it was nice to revisit it with this book. I certainly enjoyed this book, though not as much as if it had have been an episode or movie, but still good. I'll be posting a full review in the coming weeks.
Next up I read all seven volumes of Saga. This graphic novel series is so damn good, I was kicking myself for not starting it sooner, yet glad I waited because it meant I have seven volumes to chain read. I'll be posting a full review in the coming weeks.
Finally, I read the three volumes of .hack// Legend of The Twilight. This short manga series was good, but considering I have never played any of the games, watched any of the series or read any of the other manga's I definitely felt like I was missing something in the story. I'll be posting a full review in the coming weeks.
Watched
I didn't really watch much this week. I honestly can't even think of a time when I have the TV on. We even skipped family movie night – because of the read-a-thon.
Life
Last week was, in my opinion, a big steaming pile of shit. The in-laws came for a visit, which I was expecting. However, I wasn't expecting a big winter storm to hit and essentially shut down most of Northern Ontario for two whole days. Schools were closed, businesses were closed, thought he highways remained open despite poor conditions. This of course also meant I wasn't able to go to the city to see Your Name, which really irked me. So I was stuck in the house, with the in-laws, the boy and the husband, and for the most part, I hide in the computer room and played World of Warcraft to help keep my annoyance and anger in check. Due to Your Name being in theater for only one day, I sadly couldn't go see it some other day, so now I'm stuck waiting until it hits DVD later this year. Really the only upside was when the in-laws left and the storm finally subsided. Well, the read-a-thon on Saturday was pretty awesome as well, since it gave me the kick in the pants that I needed to get a bunch of reading done.
What I Plan To Do This Week
Reading
I'll be reading some of The Complete Western Collection of Elmore Leonard. I started this short story collection on Saturday and got five of the thirty stories read. So I'll be reading a few this week, and likely the next couple of weeks, to slowly finish it off.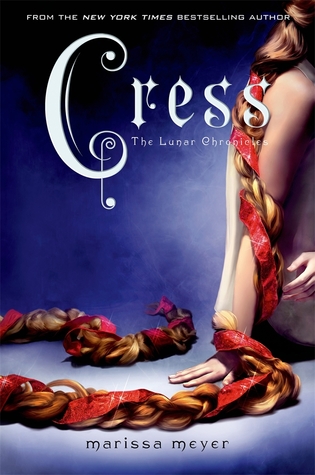 I also plan on starting Cress. I've been dying to continue on with this series, but wanted to wait until I knew I had time to fully devote to reading it and not be distracted by things to enjoy this one.
Watching
No real plans for TV or movies this week. Might watch some things on the PVR, might not, only time will tell.
Life
No plans on this front either. Just going to see what the week holds for me.