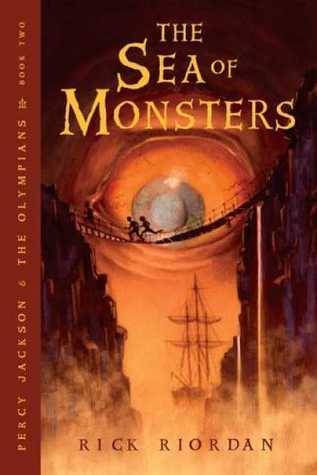 My rating: 4 out of 5 stars
The second book in the Percy Jackson series is just as good, if not better, than the first. I won't go into a lot of detail, mainly because I find it hard to talk about books part way into a series without giving away something important to the plot. And yes, I understand that most people have probably already read these books, but for those that haven't, I want to keep this spoiler free.
I really enjoyed this book. It picks up almost a year after the first book, yet there is no gap in the story. Right from page one I was hooked and could have easily read this entire book in one sitting, had life not gotten in the way of course. The characters have come a long way since they were first introduced to us, and even throughout this book, there is good character development. Of course they still have a ways to go, but hey it's only the second book in the series, so more growth will come with time.
This story has a nice fast pace to it, with something always happening. There were some good twists in the plot that made it all come together wonderfully. I can't think of a single thing I didn't like about the book. I love how the new characters introduced throughout this book helped and hindered the heroes in various ways. Some of this characters had unexpected affects on Percy and the quest he found himself on.
Overall, this was a great book. I think Rick Riordan does a wonderful job of melding the present day with ancient Greek myth. I cannot wait to continue on with this series and see what Percy and his fellow half-bloods must endure and overcome next.