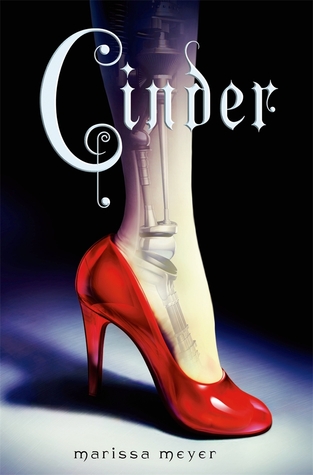 My rating: 4.5 out of 5 stars
For a few years now, I had been avoiding reading Cinder. It was all over every blog I went to, and it seemed to always get rave reviews, and so I avoided it like the plague. I figured, that from my experience, most YA books that get nothing but great reviews are generally a disappointment when I do read them, so I figured the best thing to do was to just not read this book. Then, one day I spotted this one for five dollars at the bookstore, and decided to get it, figuring that if it was bad, at least it didn't cost me much to buy it. I would have never guessed in that moment, that I would enjoy this book as much as I did.
I went into this book blind. Only knowing it was a retelling of Cinderella and that the main character was a cyborg. Other than that, I couldn't have told you anything about the book. I think that not reading the blurb on the back was a good decision.
I have to say, that reading that first page, especially with that whole wrenching the foot off scene, instantly sucked me in. I mean, come on, what a unique and fantastic way to start a story. I felt like only one of two things would happen after that. The story would either continue to hold my attention right to the very end, or it would sudden crash and I would loose interest. I'm happy to report that it kept my attention.
Everything about this novel captivated me. I loved the characters, the world, the sci-fi elements. While it is considered a retelling of Cinderella, I found that that element of the story was very small, which I feel actually made the overall book better. I admit that I was worried the focus would be too centered upon trying to tell the story with a sci-fi flair to it, but that was not the case. The basic elements were there, and yes the story did revolve around them somewhat, but there was so much more to it as well.
I feel like I can't probably describe everything I loved about this book. It's a book that is too good for words, I suppose. Really my only regret is that I didn't read it sooner, so that I could sing it's praises along with everyone else that read it as soon as it was released. And yet, at the same time, I'm glad that I waited because I do not need to wait a year for the next book to come out, I can immediately start the next book and read the whole series back to back if I so choose.
If you haven't read this book, I would high recommend doing so. There is something very special to be found within it's pages and I am looking forward to continuing on with this series and seeing just where the story goes.