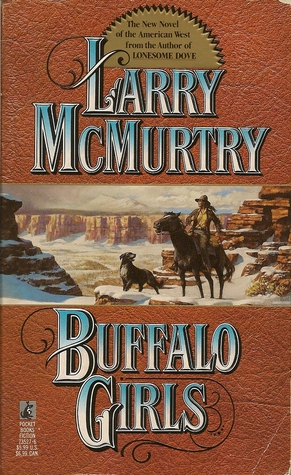 My rating: 4 out of 5 stars
One of my big reading goals is to eventually read every book written by Larry McMurtry. Reading Buffalo Girls brought me one step closer to that goal, though I admittedly have a long way to go.
I was especially excited to read Buffalo Girls because it was a story about Calamity Jane and some of the other old performers from Buffalo Bill's Wild West Show. I have always loved the idea of the Wild West show and will read and watch whatever I can find that covers it. However, in this story it isn't the original Wild West show, but a come back of it, with most, if not all, of the performers returning and much older than when they first did it.
While the Wild West Show is an important part of this story, it is more a story of enduring friendship over the years and the trials that those friends have gone through, together and alone. It is a story of reminiscing and rekindling that old life. It is also a story about how the old ways were dying off and the struggles of these old westerners to adapt to the changes happened around them.
I really enjoyed how the story was a mix of the past, told through Jane's letters and conversations with her friends, and the present day for them, as they worked their way back into the routine and life of performers.
This story is so beautifully written that I didn't want it to end. I will likely reread this one in the future.
I do with that there was a bit more focus on Jane in the story. She is a big part of it, but the story also revolves around her multiple friends. Granted I did enjoy seeing how they lived their lives and what they thought about Jane and the revival of the Wild West show, but I felt that in a way, there wasn't enough about Jane for my liking. It was still a great look into her life and her many quirks.
The ending of this book was a good little snippet of humor and made me looking more Jane, trying to confirm if that was true or not. I'm still not certain if it's fact or not, but I felt like it was the perfect way to end the story.
I would highly recommend this book, and many others by Larry McMurtry. His writing truly brings these characters and the old west back to life. If you love westerns or want to dive into the genre, I would say that this book is a great one to read.